Lisa - Sales NewTek Specialist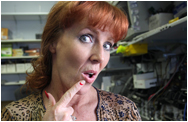 Our Resident Red Head.
Full of fire and ready to rock. Not only can she tailor make the perfect system for any purpose she makes a mean batch of cookies too. She won't let us tell you just how long she has been around but she knows what she is talking about. Lisa will go the extra mile to make sure your system purchases are not only great expereinces but do the job intended better than anyone else. Before and after the sale support is her game.

lisa@computerwise.net
Chase - Sales NewTek Specialist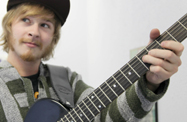 Musician Videographer and Harley Davidson Enthusiast.
Chase is one very talented guy to be sure. From playing the guitar to making videos, Chase is a very electric person and we love to tap his energy. He can help you with anything you need and is not afraid to get his hands dirty. Did we mention he loves NewTek and Harleys?
chase@computerwise.net
Rulon - Sales Tech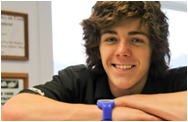 He learned how to type before he could write.
The statment above is true. Rulon had a computer in his room litterally when he was born. His Kindergarten teacher forced him to take up crayons and pencil but only after he fixed the entire computer lab for the school. He can type much faster than you so don't challenge him.
rulon@computerwise.net
Jason - Service Tech Manager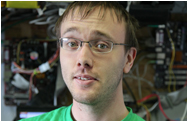 And he plays computer games too - Go figure
Jason is not just a Service Tech he is an Electrical Engineer in training. If you have a computer issue either software or hardware this is the guy should be your best friend. Just don't get him started on gaming Pleeeeease.
jason@computerwise.net
<! --- Added by Curt --->
Curt - Tech - NewTek Training/Demos/Specialist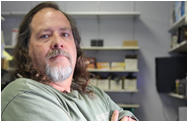 The Old Guy - Our Founder and Chief
If experience counts for anything he has 33+ years in the computer industry. Ask this guy anything at all about computers or video. We're betting he has run into it before .
For you other old-timers, he started AIR Drives and Designing Minds Software back in the Amiga days too. He had a classroom with 12 Coco's too (I know Tim Jenison knows what these are). Tim Jenison link
curtis@computerwise.net
<! ---- Google Map Begin >
View Larger Map
<! ---- Google Map End >
Testimonials
Some of our Clients
Utah Jazz - Energy Solutions Center - Larry Miller Raceway - Salt Lake City Bees - KMVT Twin Falls - University of Utah - Weber State - Idaho State University - University of Idaho Moscow - Boise National Guard - Snow College - Salt Lake Community College - University of Colorado - Denver Public Schools - Adreniline Garage - Fairfield High School - Yesco Signs - Utah Board of Education - - University of Wyoming - BYU Idaho - Denver Museum of Nature and Science - Denver Broncos Channel - KUSA 9 Denver - The Mormon Channel - Kicking Cow Productions - Action West Video - Kirby Productions - Soule Productions - Cis Com Productions- Valley Channel - Preston School Dist - KUTA8 - Utah State University - Auxillary Channel - Big Screen Networks - Versatile Produtions Colorado - CTV 12 - Barco - Translux ISE - Fiber Pipe Colorado - Salt Lake City School District - iProvo TV - Summit High School - East High - Provo City Council - Alpine School District - Western Wyoming Community College - Northern Wyoming Community College - Federal Bureau of Prisons - Gunnision School Dist - Broomsfiled Sports - Murry School Dist - Too many churches to list.